This year, the Florida State University Chapter of Phi Eta Sigma is proud to nominate Breanne Ereckson, Sean Freeman, Michelle Sauer, and Dan Stribling for consideration for Phi Eta Sigma undergraduate scholarships.
Below are the links discussed in their application and more information about the activities that they mentioned. You can click on their names below to go to their portion of this page, or you can scroll down to see their individual profiles.

Breanne Ereckson
Sean Freeman
Michelle Sauer
Dan Stribling
Breanne Ereckson is a junior psychology major and biological science and chemistry minor at the Florida State University. She currently serves as the Phi Eta Sigma FSU Chapter President and is a member of the University's Honors Program. Through her time at FSU, Breanne has served as an honors delegate, a Seminole torchbearer, and the Event Coordinator on the Aspiring Medical Professionals Executive Board. Breanne has also participated in the Undergraduate Research Opportunity Program and in the London Psychology program through FSU International Programs. She is a member of Phi Beta Kappa, Phi Eta Sigma, Golden Key International Honor Society, and Psi Chi National Honor Society. Breanne is also a National Dance Alliance nationally ranked dancer, who has participated in the 2009 Macy's Thanksgiving Day Parade.
Links to items referenced in her application:
Honors Delegate—This is an organization in which students act as liaisons for the Honors Program to prospective honors students (pages 11 and 14).
http://honors.fsu.edu/delegates.html
Seminole Torchbearers—This is an organization that recognizes approximately two hundred undergraduates for exceptional leadership and academic excellence. Membership is through nomination only (page 14).
Aspiring Medical Professionals—This is an organization that provides pre-medical students with the tools they need to apply to medical school (pages 13-14).
https://studentgroups.fsu.edu/organization/aspiringmedicalprofessionals
UROP—This program selects approximately one hundred freshman and sophomore undergraduates and teaches the students basic research principles. Students are given the opportunity to conduct research under a professor and to present a poster presentation at the Spring Undergraduate Research Symposium (pages 11-12, 18).
http://our.fsu.edu/Students/UROP-Undergraduate-Research-Opportunity-Program
FSU International Programs (page 12)
http://www.international.fsu.edu/Types/College/England/Psychology/Psychology.aspx (link for this summer's program)
FSU Honor Societies (page 11)
http://honorsocieties.fsu.edu/
NDA Nationals—In this competition, high school teams from across the national compete in different categories, or dance genres (page 13; type Maclay in search bar for video).
http://varsity.com/event/1456/2011_nda_high_school_national_championship.aspx#ooid=5oMGhiMjp61xdhAntb2idFDOtOqnmRWM
Sean Freeman is a junior majoring in meteorology and computer science with a minor in mathematics from Hebron, Kentucky. He is currently the FSU Phi Eta Sigma chapter treasurer and on the National Executive Council for Phi Eta Sigma. He also designed all of the Phi Eta Sigma FSU Chapter Webpages (including this one). He serves as The Owl's design manager and as one of the Associate Editors, and has served in this capacity for two years. As a junior in high school, Sean began researching atmospheric models at Western Kentucky University and has not stopped since. While at Western Kentucky University, he worked under the direction of Dr. Rezaul Mahmood, participated in a National Science Foundation Research Experience for Undergraduates, and presented his work at the American Chemical Society national conference. Since coming to Florida State, he has worked under Dr. Henry Fuelberg researching the impacts of pollution transport inside of tropical cyclones. Sean has participated in two NASA Airborne Science field projects, the Student Airborne Research Project and the Studies of Emissions and Atmospheric Composition, Clouds and Climate Coupling by Regional Surveys. He hopes to continue his career in research in airborne science.
Links Referenced in his Application:
The Owl Volume 4 (Pre-Print Edition)
NASA Student Airborne Research Project
Fuelberg Lab SEAC4RS Page (Designed by Sean)
Michelle Sauer is a junior double majoring in History and English: Literature with a minor in Art History at Florida State University. At FSU, Michelle has served as President and founder of the Undergraduate History Student Association at FSU, a research assistant in the History Department, Co-President and founding member of the Jefferson County Mentorship Outreach Program, Peer Academic Leader, Freshman Interest Group Leader and will be an Undergraduate Research Opportunity Program Leader in 2014-2015. She is involved in Undergraduate Research at FSU, currently working on an Honors in the Major Project for which she has been awarded an Undergraduate Research and Creative Activity Award, and having presented at the Florida Undergraduate Research Conference, FSU Undergraduate Research Symposium, and the Society for the Interdisciplinary Study of Social Imagery "Image of the Hero" Conference. She has been a recipient of the US/UK Fulbright Summer Institute Program at Durham University where she participated in a major archaeological project and took classes in medieval history. Michelle plans to attend graduate school at Durham University in the United Kingdom, pursuing a doctorate in Medieval Studies and a career in research as a professor of History.
Links to items referenced in her application
US/UK Fulbright Summer Institute Durham University: http://www.fulbright.org.uk/fulbright-awards/exchanges-to-the-uk/undergraduates/durham-university
FSU Freshman Interest Groups (FIG): http://fig.undergrad.fsu.edu/
Undergraduate Research Opportunity Program: http://our.fsu.edu/Students/UROP-Undergraduate-Research-Opportunity-Program
A story in the Tallahassee Democrat about Michelle being selected for the Fulbright Summer Institute
US/UK Fulbright Summer Institute Blog: http://pastpeeringdurham.blogspot.com/
Fulbright website student profile: http://www.fulbright.org.uk/about/meet-our-fulbrighters/michelle-sauer/609
UHSA facebook page: https://www.facebook.com/FSUUHSA
UHSA FSU Organization Page: https://studentgroups.fsu.edu/organization/UHSA
JMOP FSU Organization Page: https://studentgroups.fsu.edu/organization/jmop
Michelle's Creative Piece
Participating at the Binchester Archaeological Dig as part of the US/UK Fulbright Summer Institute Program at Durham University in Summer 2013
Speaking at the October 2013 Phi Eta Sigma General Members Meeting as a student representative of the FSU Office of National Fellowships and Office of Undergraduate Research
Representing the Office of National Fellowships at the President's Box
Competing in the 2014 Battle of the Brains - Champions: Phi Eta Sigma Gold!

Chalking and Tabling for the events in the Research Remix Series
Participating at Phi Eta Sigma Events: Induction, Holiday Card Making Social Chili Stuffing Party, and Black and Gold Affair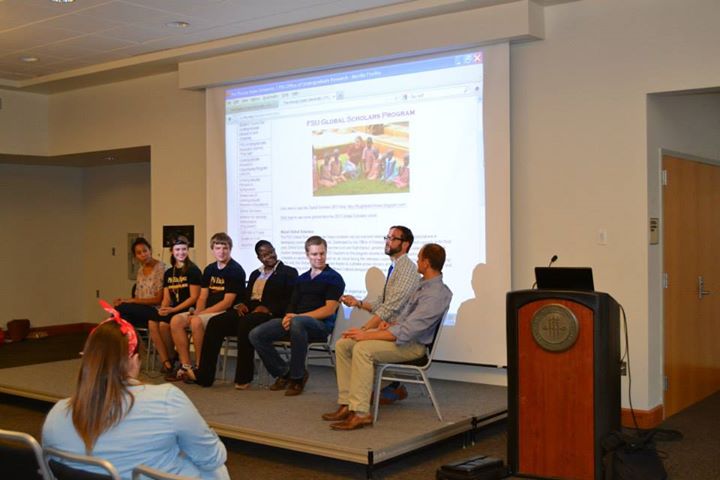 Speaking at the 2012 Phi Eta Sigma Induction Ceremony, and presenting the 2012 Phi Eta Sigma MRCE to Michell Faidengold. Picture with FSU Dean of Undergraduate Studies, Karen Laughlin
Pictures from Dan's time with the FSU Circus (Special guest star, Fellow PES Member Gillian DiAddezio )